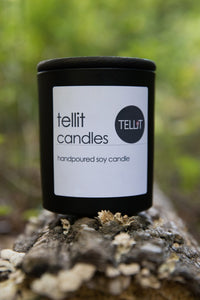 Alive is inspired by the person who has inspired me my entire life...my beautiful mom! Anyone who knows her, knows her soul is perfectly in line with the name she chose for this candle. I've taken the scents she most enjoys and paired them with others that collectively inspire a centered and full of life environment. Not to mention it's appeal is both masculine and feminine. Lot's of essential oils in this candle- cedarwood, sandalwood, patchouli, sage, lavandin and orange as well as subtle notes of amber, jasmine and violet.
Made with 100% soy wax 
Phthalate free quality fragrance oils, pure essential oils and cotton wicks
Burn time of 40+ hours when burned properly
Handmade and poured with love in Richmond, VA 
Warm, cozy scent
I just love this scent. It feels like a big soft bear hug to me. Definitely one of my favorites. Its a toss up depending on the day with the fig & rhubarb.
Yet another FAVORITE🕯
Truly like you're walking amongst the pines and fir trees! I live in Colorado and this brings the outdoors, inside🌲
Professor is perfect!!
Smoky, subtle notes that remind me of being in the souk markets in Turkey and the Middle East. Notes of Amber and Oud that make me want to stick my nose into the candle and take it all in. Wonderfully earthy without being patchouli based. Makes you want to curl up with a good book in front of a fireplace. My favorite candle so far!
Just like Christmas
this wonderful pine smell, is a great combination of pine and sweet Christmas time smells. Love it
So smooth
you can so smell the sweet vanilla...hint of bean and the amazing smell of tobacco. I love this candle. Even my girls wanted it in their room. Getting more for Christmas 🎁 gifts. Thank you dear, we love this one!
2nd Purchase
Once again very happy with the purchase, packaging, shipping, etc.. a very high quality product that continues to impress .. I love how clean they burn with no generic perfume smell,, just a pleasant aroma accented with a beautiful flame.. You wont be disappointed.
Perfect Gift
I ordered 10 candles as Mother's Day gifts. I received 10 "I love this candle...It smells so good" messages. Tellit candles were the perfect gift.
This is what Heaven must smell like!
Smells gorgeous,
and is beautifully designed. Putting this on my list of top 3 favorites!!
It will transport you
This luxurious scent will transport you to a different time; an different place. The layers of smoke and vanilla are deep and rich, and remind me of exploring and ancient library, full of dusty leather books, or hugging my grandpa and inhaling the pipe tobacco that lingered in his tweed jacket. Safe, warm and relaxing. One of my favorites.
Amazing!
I bought a "sample" pack and this scent Alive, omg! I wish I could send the smell to you! It was a fruity but yet soft pleasant aroma. The candles all burned clean all the way to the very last light!
If you are questing buying before you can smell, I gurantee that there isn't a candle so far that I have bought that I have been disappointed in the smell.