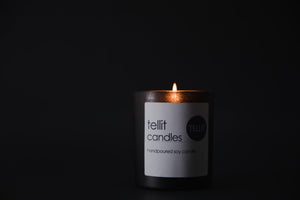 Let's start with the first impressions; it's sweet, sultry, musky and both masculine and feminine. The surprisingly complex mix of cedarwood, vanilla, cream, amber, jasmine, sandalwood and musk leave you wanting to cozy up with a blanket one minute and light the romantic candles the next.
Made with 100% soy wax 
Phthalate free quality fragrance oils, pure essential oils and cotton wicks
Burn time of 40+ hours when burned properly
Handmade and poured with love in Richmond, VA  
1st Buy or what will be many more
Fantastic customer service and response, and answered my questions. Bought two initially, fast shipping, and arrived well packaged. Obviously a high quality product, super clean burn, heavy glass holding the candle, (wish you could return and recycle or reload them at a discount!) Candle scent is wonderful, super high quality wax, burns a little faster because of the high quality which for the price would like to see maybe a little more of a pour in container, but not sure what that does to burn dynamics.. and honestly that would be nit picking in my opinion. Future, wonder if the labels could be changed to be easily removable if the user chose to not display? Pictures are after 5-6 burns of several hours each burn. Absolutely would buy again and or send as gift.. fragrance is extremely pleasant and in no way overwhelming in the room. Just a nice, hand made, high quality product. (Small soot you see is from me lighting not candle burn and wax splatter is from my child blowing out the candle with too much force, ;0) as this wax puddles nicely and is very light, only needs a small puff to extinguish)
Nighttime magic
Romantic smell out of the best candle ever made! I absolutely enjoy the Amber Noir candle for these romantic evenings. These candles burn so well and the scent is perfect. You will love this one!
Amazing smell!
I have tried many candles and found nothing that compares to TELLiT. The amazing scents, the clean burning, and the love poured into each container is what you get with these candles. I will no longer purchase any other candles as these are the best on the market.