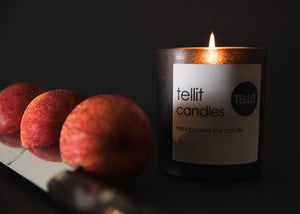 Imagine being in an orchard with your pick of all of the ripe, fresh and crisp Macintosh apples you could possibly want. This candle is a true apple lovers dream.
Made with 100% soy wax 
Phthalate free quality fragrance oils, pure essential oils and cotton wicks
Burn time of 40+ hours when burned properly
Handmade and poured with love in Richmond, VA 
The Name of this Scent is Quite Appropriate
If you want your Space to live 'Appley Ever After' simply light one of these candles, and let the magic begin.
Crisp, lovely, and refreshing, this scent delivers time and time again.
Love these candles..they burn clean and smell wonderful...