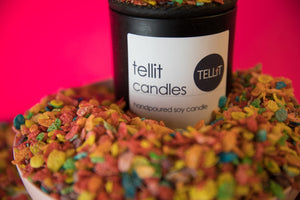 I personally have always loved the "cereal dust" left at the bottom of a cereal box with all of it's sugary and sweet goodness. This nostalgic scent will transport you straight back to your childhood memories on your couch, in your most comfy PJ's watching your favorite Saturday morning cartoons with a big bowl of delicious froot loops (cereal dust included). Or it may just transport you to last week ;)

Ingredients include Lemon, Lime, Grapefruit, Lavender, Orange, Vanilla and Sandalwood.
Made with 100% soy wax 
Phthalate free quality fragrance oils, pure essential oils and cotton wicks
Burn time of 40+ hours when burned properly
Handmade and poured with love in Richmond, VA 
amazing candle
Smells exactly like cereal and lasts a long time!!!
Yummm!!
I swear my husband thought one of the kids had spilled an entire box of Froot Loops on the floor! This candle is delicious smelling start to finish!