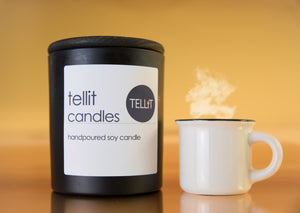 For those of us who rely on the magic beans to help us become superhumans, this candle will serve as true aromatherapy. This coffee scent combines vanilla bean, hazelnut, cocoa and of course, coffee. People will think you just put on a fresh pot of hazelnut coffee!
Made with 100% soy wax 
Phthalate free quality fragrance oils, pure essential oils and cotton wicks
Burn time of 40+ hours when burned properly
Handmade and poured with love in Richmond, VA 
Delicious smelling candle!
Love this candle. It's so hard to find things marzipan-scented and Tellit Candles delivered. This smells delicious and it fills the area with deliciousness. I have a pretty big room with a high ceiling - it fills the space with no trouble at all. I'm so happy I found someone who makes candles with the specific scent I craved. Thank you!
Marzipan scented candles
Marzipan scent is not easy to come by. I am so pleased with my purchase of 2 Marzipan candles. The scent captures The Holidays
I highly recommend this product!☘️
This is absolutely one of my favorites✨
In true marzipan "fashion", this is the real deal!!!
One off my faves!
Love this scent!!!!
I'll definitely be ordering more of the Rhubarb and Fig candles. They smell delicious!
Smells perfect!
Shop owner was so so nice and helpful and the candle is exactly what I wanted! Love it so much :)
PERFECTION.
I've been looking for a marzipan/almond scented candle for a while now and I hadn't really found the right one. I decided to take a chance and order one online and I'm so glad I did! The scent is absolutely perfect, strong enough to still notice it after a couple of hours without it becoming overpowering or sickly sweet. It rides that perfect line between sweet almond/amaretto and almost cherry, just like a good marzipan.
MARZIPAN perfection
These candles are the perfect marzipan scent. Not over powering. I keep coming back for more!
Overly Satisfied 😊
Loved my candles!! They smelled absolutely delicious!!
Lovely...just lovely!!
Relaxing and warmly fragrant!! The entire house smells and feels cozy when I burn this candle! Adding this one to my top 3 favorites!
LOVE THIS!
The scents I've discovered at tellit are so amazing and flavorful! They warm my home and my soul. I've gotten both flavors from the website and personal mixes. I only order scents from here!