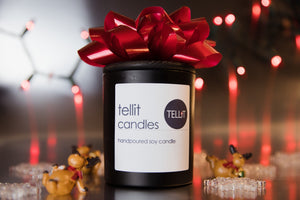 I start celebrating the holidays as soon as costumes get put away. Needless to say, I take my holiday scents pretty seriously! This one is a favorite of mine. It combines fraser fir, balsam, cedarwood, amber, moss, cranberry, cinnamon, clove and sweet orange.
Made with 100% soy wax 
Phthalate free quality fragrance oils, pure essential oils and cotton wicks
Burn time of 40+ hours when burned properly
Handmade and poured with love in Richmond, VA 
Holidays away from home
I purchased this candle for my daughter so she could have the wonders of Christmas while at school before coming home for break. Mission accomplished. She loves it! Her apartment smells festive while she studies for finals. Having purchased from Rita before, I had no doubt this would be a big hit. Even arrived a day earlier than expected 🤶. Thank you, Rita!
Great holiday scent
This fragrance is a must for the holidays. I cheat by using an artificial Christmas tree, but you cannot tell the difference right now with my Happy Holidays candle burning in the room. It smells like fresh fir/cedar and cinnamon. I absolutely love this fragrance!