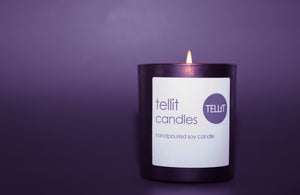 In this alluring and relaxing scent, both Lavender and Vetiver take the spotlight but not without inviting some of their more subtle friends to create the perfect chill out, calm down, take a deep breath and be happy scent. In addition to the main hosts this mix includes fir balsam, geranium, orange, amber, patchouli, lemon, and cedarwood.
Made with 100% soy wax 
Phthalate free quality fragrance oils, pure essential oils and cotton wicks
Burn time of 40+ hours when burned properly
Handmade and poured with love in Richmond, VA 
Beautiful
The candles are so beautiful, and they smell beautiful. The smell of the lavender is so relaxing. I enjoy both candles.
Blissful
It's a chilly day today, but I have Sea Salt and Serenity burning while a take some time out to read. I feel like the sunshine is spreading warmth instead of a cold breeze. I feel like I could shut my eyes and be Oceanside. I feel a sensory state of bliss!
The perfect gift!
I purchased a custom vessel along with a custom scent by Rita as a birthday gift for my boss and it was PERFECT! My boss said the scent fills her house and she felt like a princess when she opened the package to find that beautiful candle. Thank you Rita!! I will definitely be buying more candles.
THE Best Scent
Sea Salt and Serenity is exactly what the name describes! It is the ultimate scent for relaxation! One of my absolute favorite smells!
Insomnia Remedy
As a last attempt to battle my quarantine insomnia, I decided to try this lavender candle last night and it actually did the trick! It doesn't hurt that my room smells like a spa 😌 I'm rested and ready to take on this week!
The Best!
As a candle connoisseur, I can say your candles are the best. Very subtle fragrance, long lasting and clean burning.
These candles are amazing . I have tried several different ones and each everyone has a different and wonderful smell . And you don't even have to have them lit to enjoy the smell . They burn great . In my opinion they are much better then yankee candle . They are AMAZING !
The best candle on the planet. It lasts and fills up my living room in 20 min. Absolute perfection!