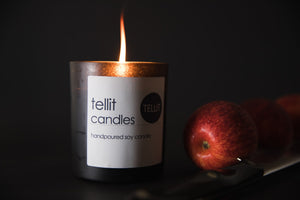 Some scents just take you back to a place in time with one inhale. Apple Maple Bourbon combines your traditional sweet, warm, cinnamon apple pie with a kick of boozy bourbon and caramel just to bring it all home. You're going to want to settle in for a while with this one.
Included in this candle are apple, maple, bourbon, vanilla, caramel, clove, almond and orange.
Are you drooling yet?
Made with 100% soy wax 
Phthalate free quality fragrance oils, pure essential oils and cotton wicks
Burn time of 40+ hours when burned properly
Handmade and poured with love in Richmond, VA