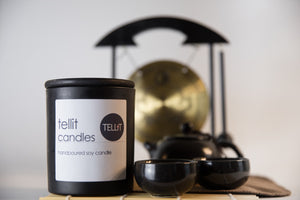 This one is inspired by my love and partner; it's a depiction of his demeanor to say the least. The guy could calm a set of quintuplets throwing a simultaneous fit. Ingredients chosen by him are clean cotton, a top note of fresh apple, melon, orange, bergamot and base of lavender and woody violet and musk.
Made with 100% soy wax 
Phthalate free quality fragrance oils, pure essential oils and cotton wicks
Burn time of 40+ hours when burned properly
Handmade and poured with love in Richmond, VA 
This one will be my "after the holidays" go to! It's a simple, light fragrance for any day use. Love it!
Definitely a Winner
One of my favorites scents in a candle ever. Not sure how the scent was captured but it definitely reminds me of that fresh and crisp smell/essence that I get when putting a cold copper mug filled with a Moscow Mule up to my face. Love, Love Love! Definitely have a customer and fan with this one!
This candle smells wonderful! As do so many other. I've ordered from Tellit the last 3 years for Christmas gifts, teachers gifts and birthday souvenirs. Always so professional! On time! Neatly packed and a pleasure to work with. My children's teachers now look forward to their Tellit candles!!!
THE BEST!
LOVE LOVE LOVE this scent by Rita.
For me, it's the feelings of Christmas and winter captured perfectly in candle. ( the best!!)
Rita also created a signature scent for my company, Bloom Tuesday. Seriously, she is a scent wizard!!
You cannot go wrong with any of her creations. Each one is layered in complexity and love.
She really pours her heart into what she creates and it shows.
Cannot wait for the next opportunity to order more candles from Rita.
Thank you TELLit candles and Thank you Rita!!!
smells like my kinda heaven
a candle that is truly made with love and passion can only end up smelling a little like heaven! or my kinda heaven! I requested a unique scent that was presented just as I imagined! not only were the candles and wax melts great, but the wonderful interaction you receive and the follow up I received was A+++!