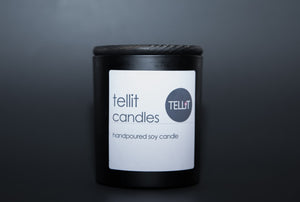 This scent was inspired by my late dad. The name was chosen because while my dad had more than one career in his life, I best remember him as a businessman and a beloved Professor of the English language or as his students fondly called him "Estez" which is "teacher" in Arabic.
Something else my dad was known for and has passed on to us, was his love of music. I can remember summers in Lebanon at gatherings where he was often asked to play impromptu songs on his Oud Guitar while he'd sing songs of life and love.
Masculine, mellow, clean and complex. This candle scent embodies him as a dad, a man and a legacy. 
Included is powder, amaretto, tonka, balsam, rum, musk and palmarosa with inspired notes of cedarwood to represent my dad's life in Lebanon and Oud oil to represent his love of sharing happiness through his instrument.
Made with 100% soy wax 
Phthalate free quality fragrance oils, pure essential oils and cotton wicks
Burn time of 40+ hours when burned properly
Handmade and poured with love in Richmond, VA 
Melinda E.
This by far is my favorite scent of all time! It's so fresh & clean smelling. I literally would buy this scent and wear it as a perfume if I could! It's that good!